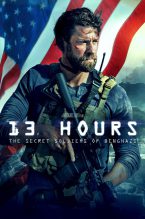 ---

13 Hours: The Secret Soldiers of Benghazi (7/10)




'Directed by Michael Bay' has sort of become synonymous with sexy visuals of violent action, cheap thrills and/or mega explosions. This movie has those elements, but it's trying to be more as well.

The story is well-known as it was reported extensively by global media at the time: the 2012 attack on a US diplomatic compound in Benghazi, Libya, and a nearby secret CIA compound (which clearly wasn't quite 'secret' enough…).