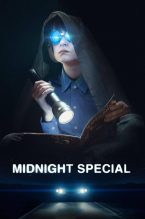 ---

Midnight Special (7/10)




A seemingly estranged father (Michael Shannon) appears to kidnap his own son from what turns out to be a cult and takes him on the road… But why? And where are they going? And why was the boy revered by this cult?

The details slowly emerge as the chase progresses and we learn more about the boy, Alton, and certain powers he seems to posess. But we never quite understand them, and the director (Jeff Nichols) keeps playing with the audience's understanding of what may be going on.